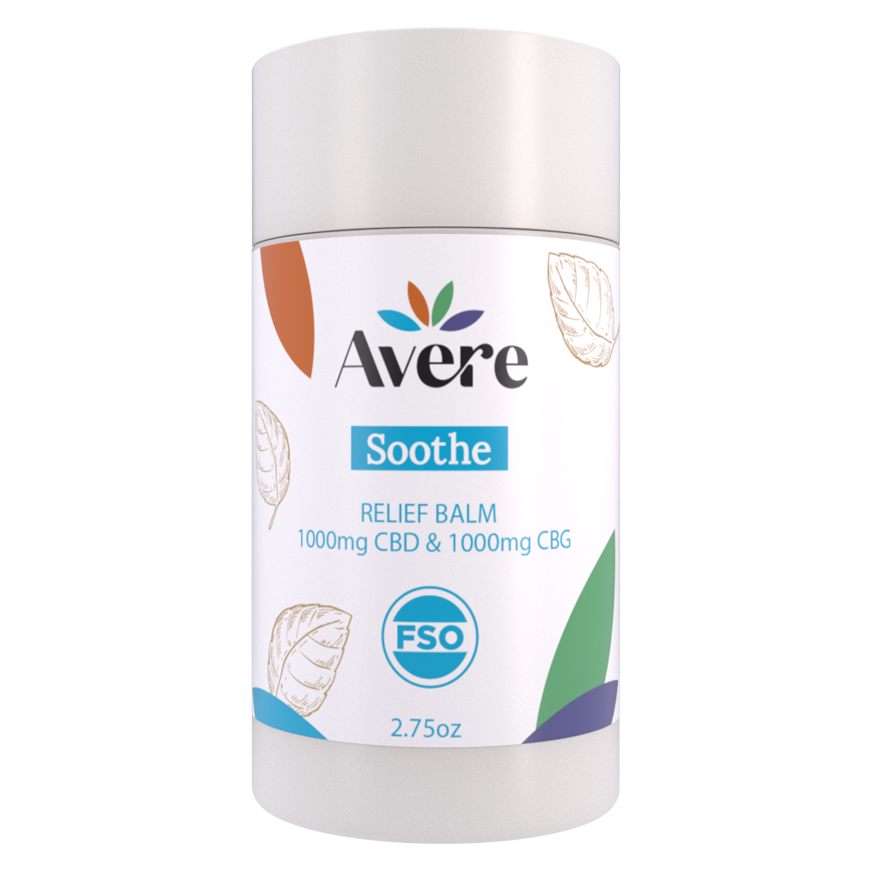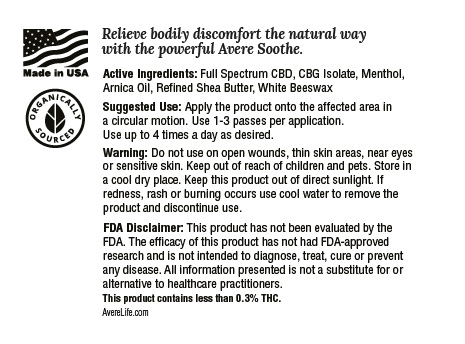 CBD/CBG Infused Relief Balm

Relieve bodily discomfort the natural way with the powerful Avere Soothe.
Loaded with 1000mg of CBD plus 1000mg of CBG to provide you relief for joint and muscle discomfort, the Avere Soothe Balm is the most effective way to combat discomfort with all-natural ingredients. Simply apply the balm to the area of focus for quick and long-lasting relief from muscle and joint discomfort.
Product Information:
Product Type: CBD/CBG topical balm
Size: 2.75oz balm
CBD Concentration: 1000mg
CBG Concentration: 1000mg
THC Concentration: ≤ 0.3mg
Origin: Manufactured in the United States
Quality: Highest quality ingredients, Organically sourced, United States grown hemp; third-party lab tested for purity
Key Ingredients: Full Spectrum CBD, CBG Isolate, Menthol, Arnica Oil, Refined Shea Butter, White Beeswax
Combining the soothing properties of both CBD and CBG, Avere Soothe relief balm is a powerful natural product on the market today for combating muscle and joint discomfort. Whether you want to promote faster muscle recovery after exercise or reduce general discomfort, you are going to appreciate the powerful, all-natural properties of Avere Soothe.
At Avere, we take testing seriously. We meticulously test all of our manufactured products for CBD Content as well as screening for pesticides and heavy minerals. Please click the link for more information on testing.
Avere, LLC CoA