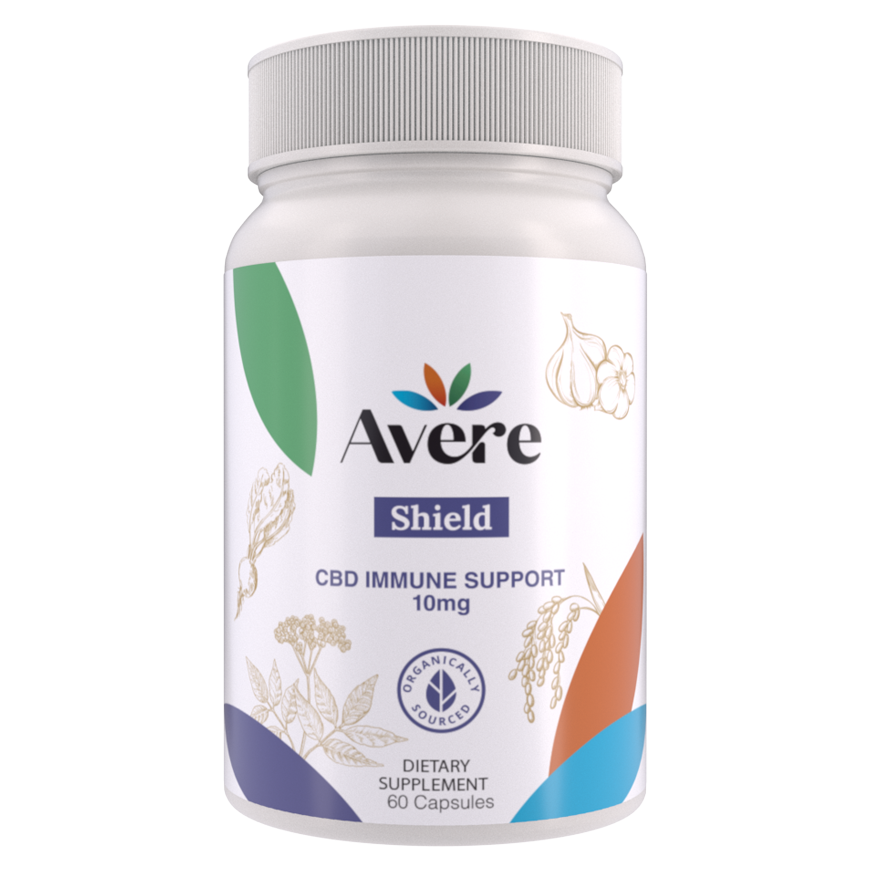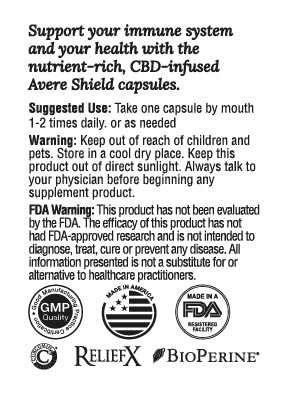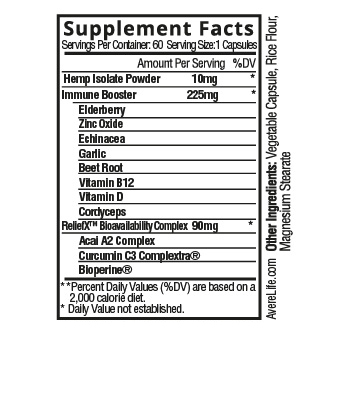 Capsules Relief X Immune Supplement
Immune Support CBD Capsules

Support your immune system and your health with the nutrient-rich, CBD-infused Avere Shield capsules.
Designed to provide your immune system with the key vitamins and nutrients it needs to function at its highest level, Avere Shield capsules help keep your body's first line of defense in prime condition. Each capsule is infused with ten milligrams of premium CBD to provide you with the vast hemp-extract benefits and immune-supporting benefits that Avere Shield offers.
Product Information:
Serving Size: One capsule
Size: 30 capsules
CBD Concentration: 10 mg per capsule
THC Concentration: 0mg
Origin: Manufactured in the United States
Quality: Avere honors GMP practices at an FDA-registered facility; organically sourced, United States grown hemp; third-party lab tested for purity
Key Ingredients: Curcumin C3 Complex, Beet Root Extract, Elderberry, Zinc Oxide, Acai Berry, Garlic, Bioperine, Vitamin B3, Vitamin B12
For thousands of years, each of the ingredients found in Avere Shield capsules have been used by civilizations all over the world to help and promote immune system health. Now, you can enjoy the immune-supporting benefits of all these ancient remedies in one convenient capsule. Best of all, the ten milligrams of premium CBD found in each capsule makes Avere Shield a supplement that is actually enjoyable to take as part of your daily routine.
Avere Shield capsules are made in the USA at an FDA-registered facility using only the finest ingredients available on the market today. If you are looking for a way to naturally support the strength of your immune system while at the same time enjoying the multitude of benefits CBD provides, then be sure to try out our Avere Shield capsules today!
At Avere, we take testing seriously. We meticulously test all of our manufactured products for CBD Content as well as screening for pesticides and heavy minerals. Please click the link for more information on testing.
Avere, LLC CoA