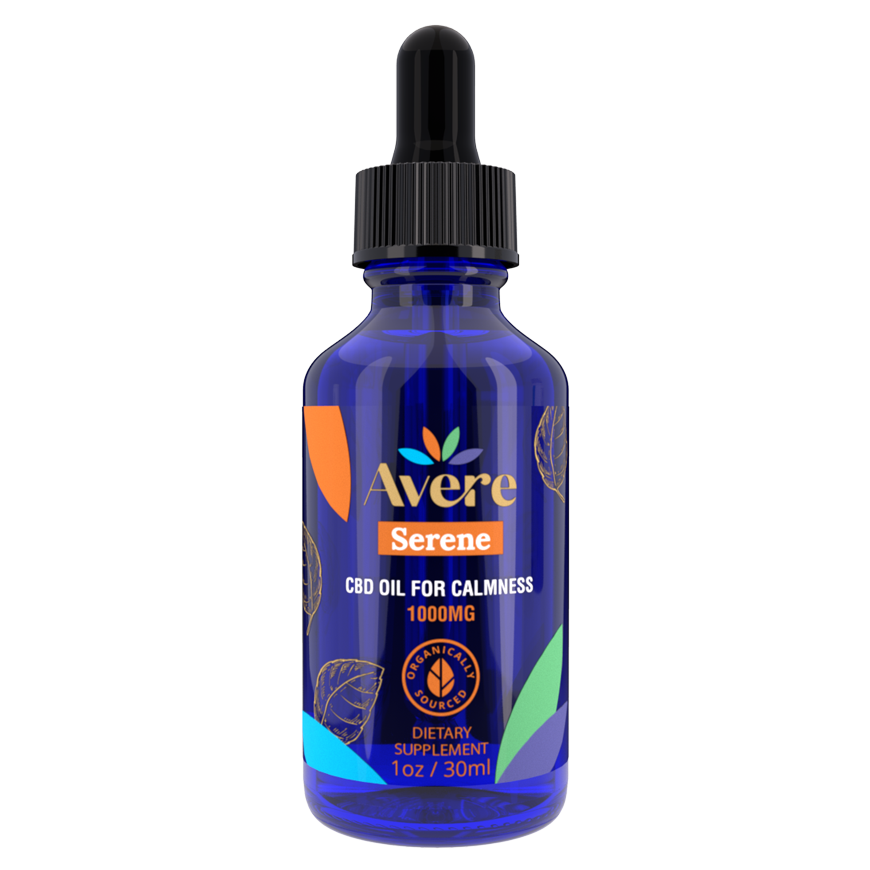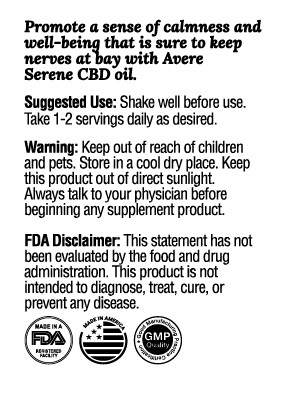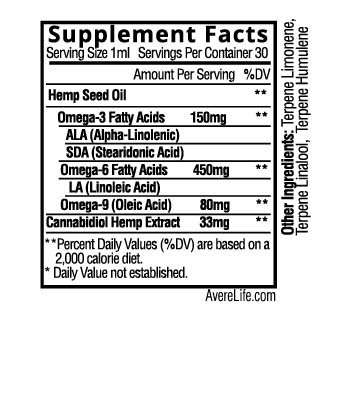 1000 MG CBD With Limonene, Humulene, Linalool

Promote a sense of calmness and well-being that is sure to keep nerves at bay with Avere Serene CBD oil.
With Avere Serene, relief from stress is always within reach. Designed to promote a feeling of peace and comfort, and packed with terpenes, Avere Serene is the ideal product for anyone who could use a little more serenity and relaxation in their life.
Product Information:
Product Type: CBD oil/tincture
Size: 1oz bottle
Serving Size: 1 ml
CBD Concentration: 1000mg
THC Concentration: 0mg
Origin: Manufactured in the United States
Quality: Avere honors GMP practices at an FDA-registered facility; organically sourced, United States grown hemp; third-party lab tested for purity
Key Ingredients: Hemp Seed Oil, Cannabidiol Hemp Extract, Limonene, Linalool, Humulene
For years, CBD has been renowned as one of the most effective ways to ease nerves. Though, not all CBD products meant for serenity are created equal. Thankfully, Avere Serene is manufactured using the most effective ingredients on the market today and designed for the sole purpose of creating a calming and soothing effect that is known to significantly reduce the unwanted effects of stress. In addition to the calming benefits of CBD, Avere Serene also contains a number of relaxing natural ingredients such as Linalool for maximum effectiveness. Take control of your sense of calm and well-being by trying out Avere Serene today!
At Avere, we take testing seriously. We meticulously test all of our manufactured products for CBD Content as well as screening for pesticides and heavy minerals. Please click the link for more information on testing.
Avere, LLC CoA