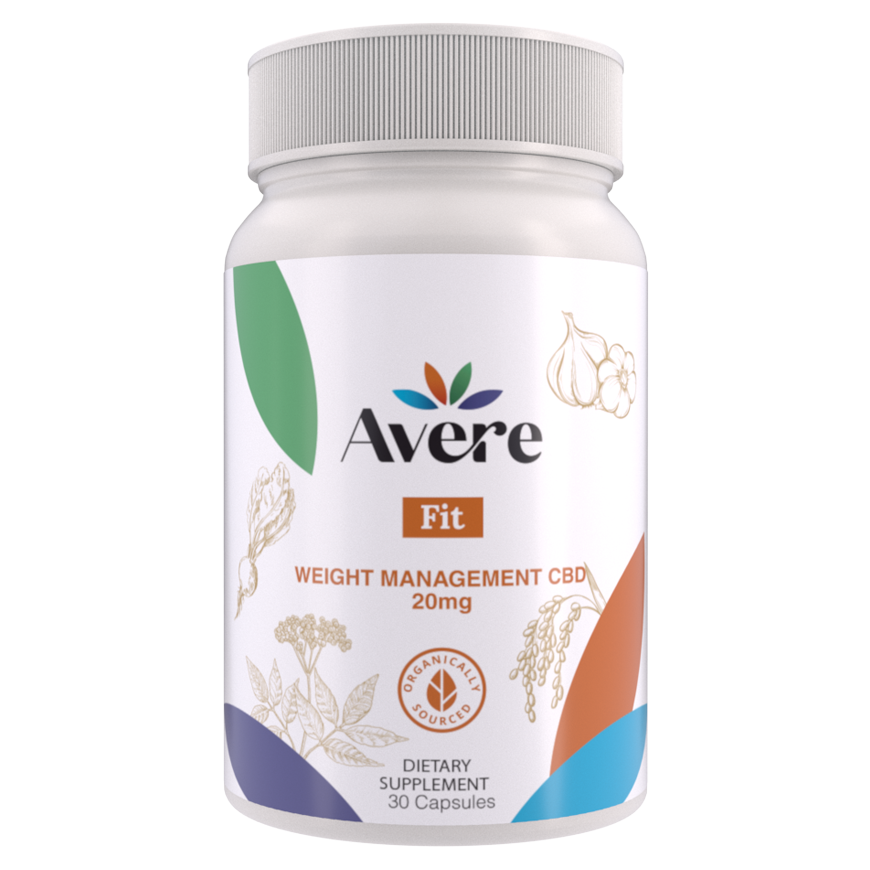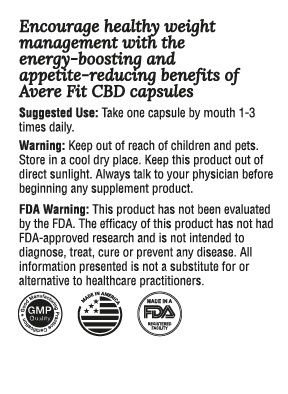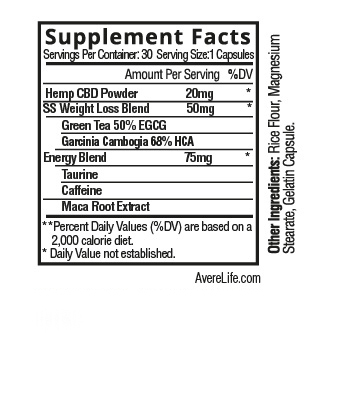 Weight Management (CBD and Energy)
Weight Management CBD Capsules

Encourage healthy weight management with the energy-enhancing and appetite-reducing benefits of Avere Fit CBD capsules. 
Designed to reduce appetite while at the same time providing the energy and motivation you need for healthy exercise, Avere Fit CBD capsules are the perfect supplement to any weight management plan. If you've been struggling to burn fat and achieve your ideal body then Avere Fit is just the support you may need!
Product Information:
Product Type: CBD capsules
Serving Size: One capsule
Size: 30 capsules
CBD Concentration: 20mg per capsule
THC Concentration: 0mg
Origin: Manufactured in the United States
Quality: Avere honors GMP practices at an FDA-registered facility; Organically sourced, United States grown hemp; third-party lab tested for purity
Key Ingredients: Taurine, Caffeine, Maca Root, Green Tea, Garcinia
Meant to be taken fifteen minutes before a meal, Avere Fit capsules are able to promote healthy weight management in two key ways. To start, the ingredients in this game-changing capsule are able to reduce your appetite, helping you feel satisfied without overeating. In addition to acting as an appetite reducer, Avere Fit also serves as a powerful energy supplement, giving you the energy you need to power through any exercise routine. This dual-action approach to promoting healthy weight management makes Avere Fit one of the most effective supplements on the market today.
At Avere, we take testing seriously. We meticulously test all of our manufactured products for CBD Content as well as screening for pesticides and heavy minerals. Please click the link for more information on testing.
Avere, LLC CoA