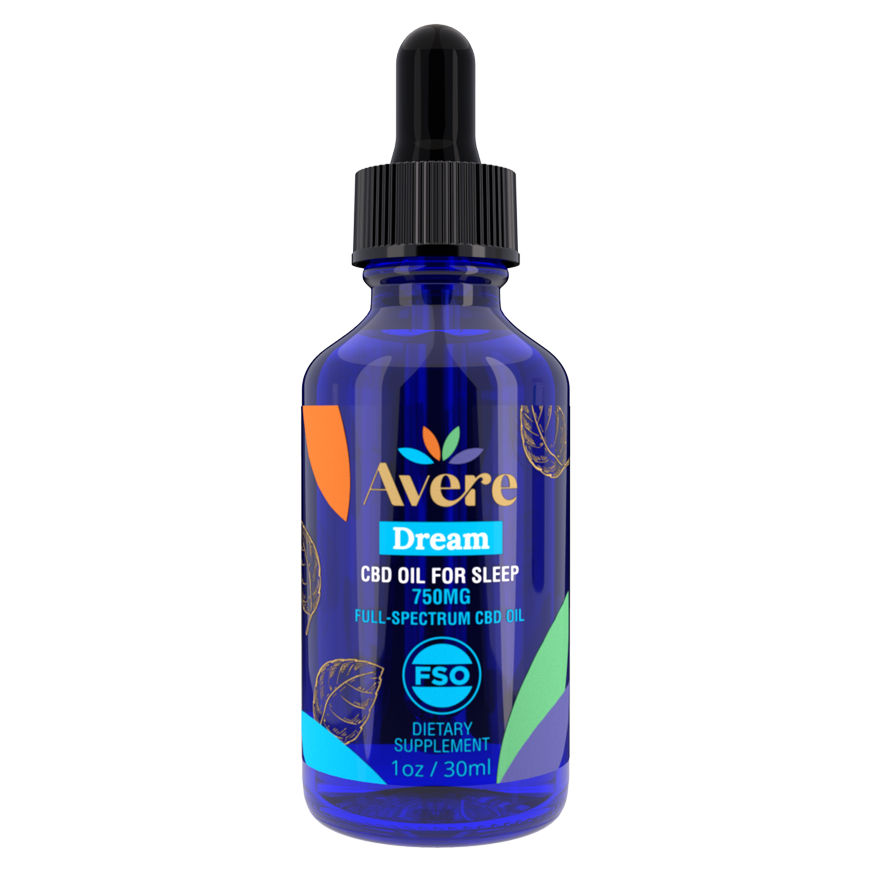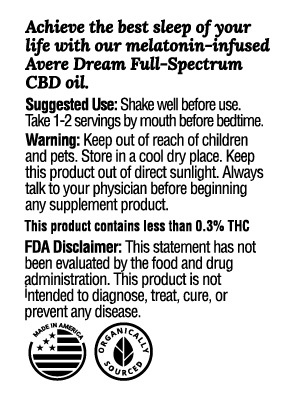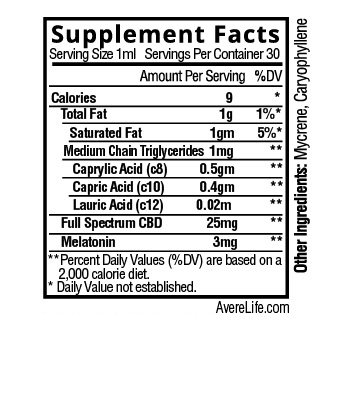 750 mg Full-Spectrum CBD oil with Melatonin

Achieve the best sleep of your life with our melatonin-infused Avere Dream Full-Spectrum CBD oil.
If you are one of the many people who have trouble falling and staying asleep at night, alternatives are available. Infused with melatonin in addition to a number of other natural, sleep-promoting ingredients, our Avere Dream is the ideal recipe for deep, restful sleep that lasts the entire night.
Product Information:
Product Type: CBD oil/tincture
Size: 1oz bottle
Serving Size: 1 ml
CBD Concentration: 750mg
THC Concentration: ≤ 0.3mg
Origin: Manufactured in the United States
Quality: Highest quality ingredients, Organically sourced, United States grown hemp; third-party lab tested for purity
Key Ingredients: Full Spectrum CBD, Melatonin, Myrcene, Caryophyllene, Fractionated Coconut (MCT) Oil
According to the CDC, one out of every three Americans doesn't get enough sleep at night to be fully rested and energized the next morning. If you struggle falling asleep or staying asleep, getting the recommended eight hours every night can be a real challenge. With Avere Dream, falling into a deep and revitalizing sleep that lasts all night is no longer a fantasy. Infused with melatonin along with other sleep-promoting ingredients such as Limonene and Humulene, Avere Dream is the perfect product for ensuring the kind of deep and restful sleep that most people can only dream of.
At Avere, we take testing seriously. We meticulously test all of our manufactured products for CBD Content as well as screening for pesticides and heavy minerals. Please click the link for more information on testing.
Avere, LLC CoA